Kurk Vanilla
Kurk is the gold standard of supplements - carefully designed to optimise immunity, wellness and performance. Showcasing 3 flavours - Kurk Vanilla is silky, rich and luxurious. 

Add 1 pump (1ml) to your morning coffee, milk or smoothie, stir and enjoy.
60 DAY NO-RISK MONEY BACK GUARANTEE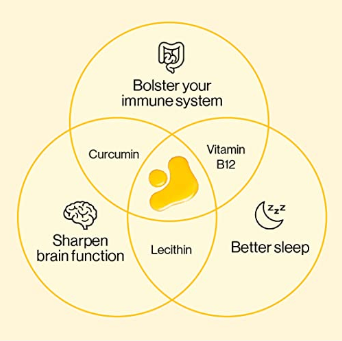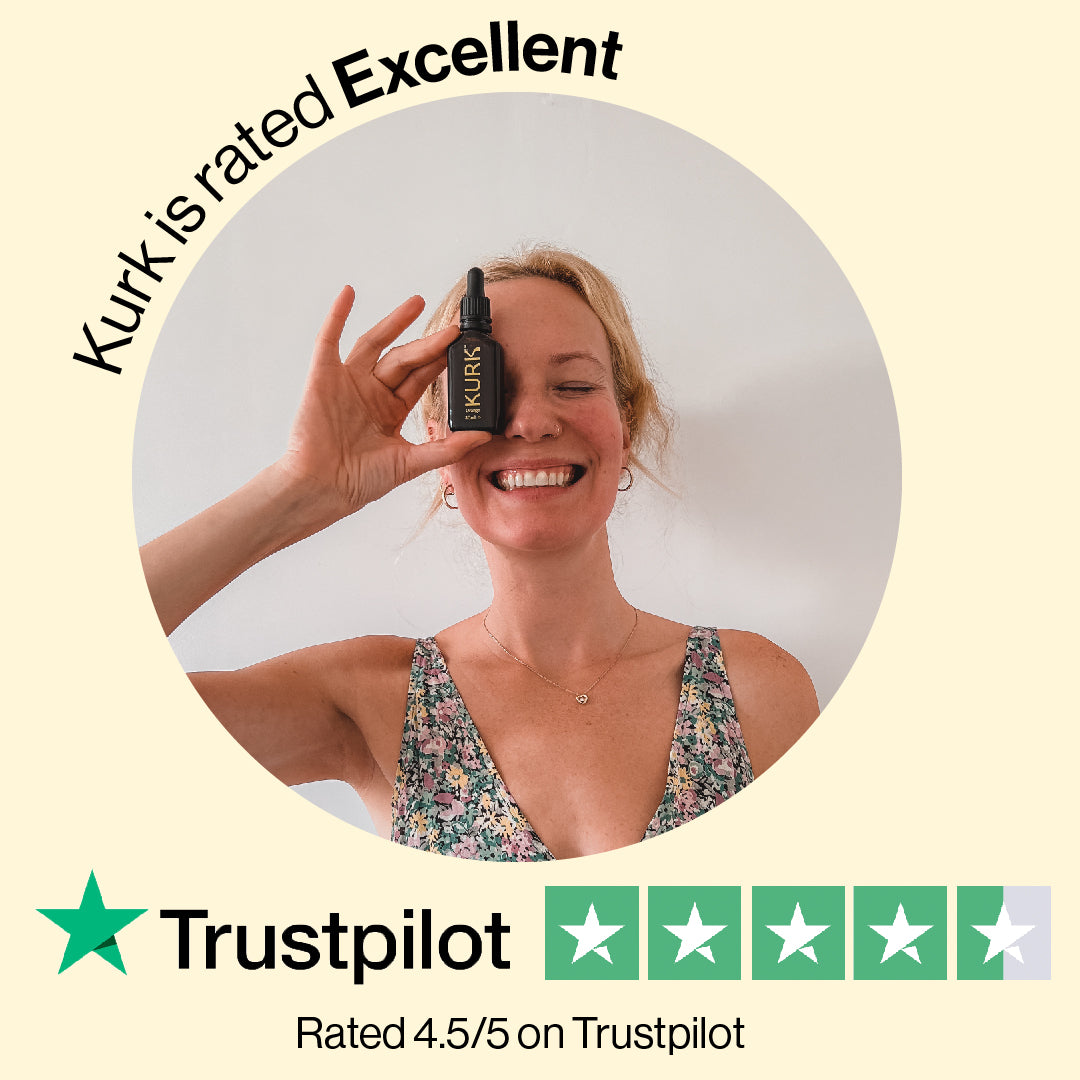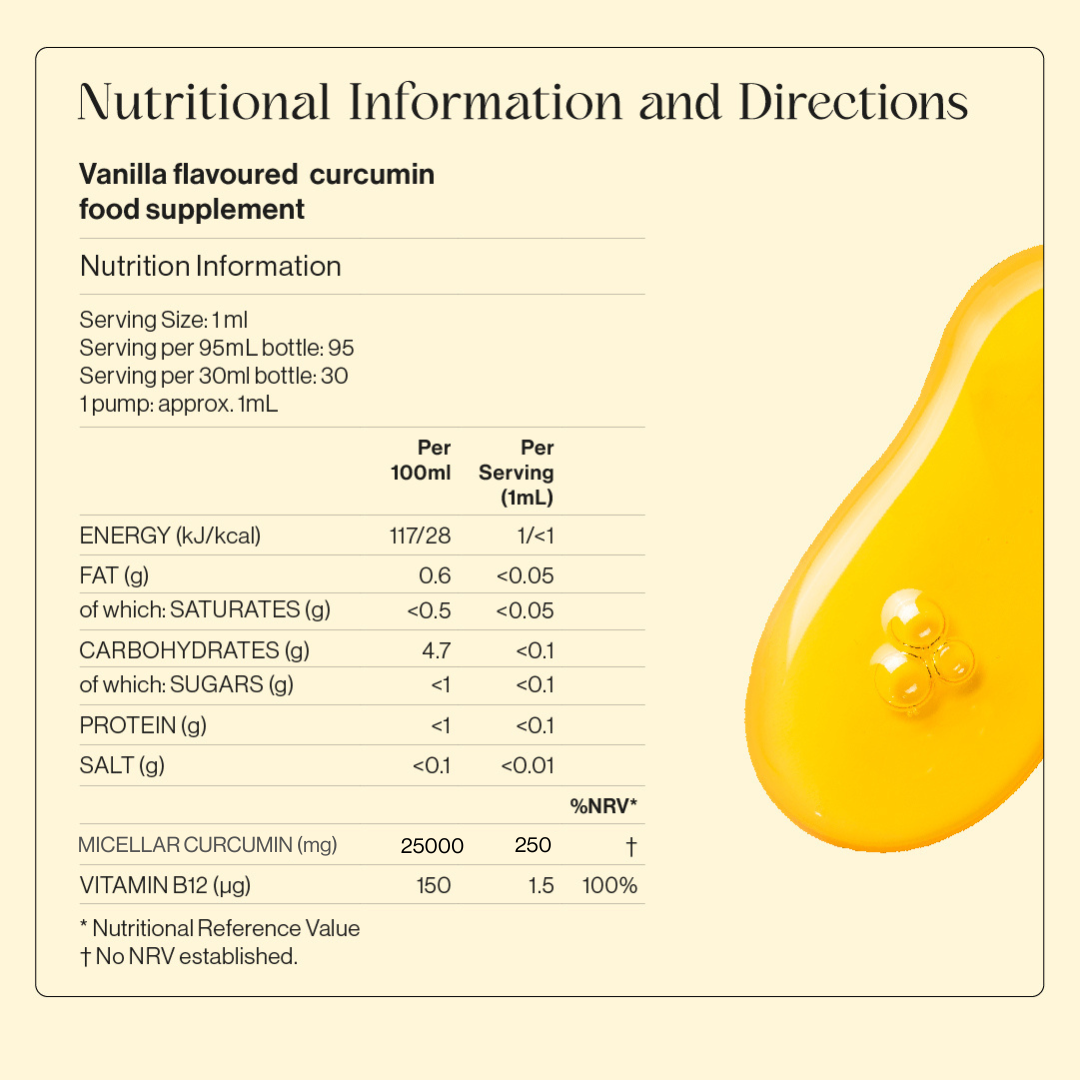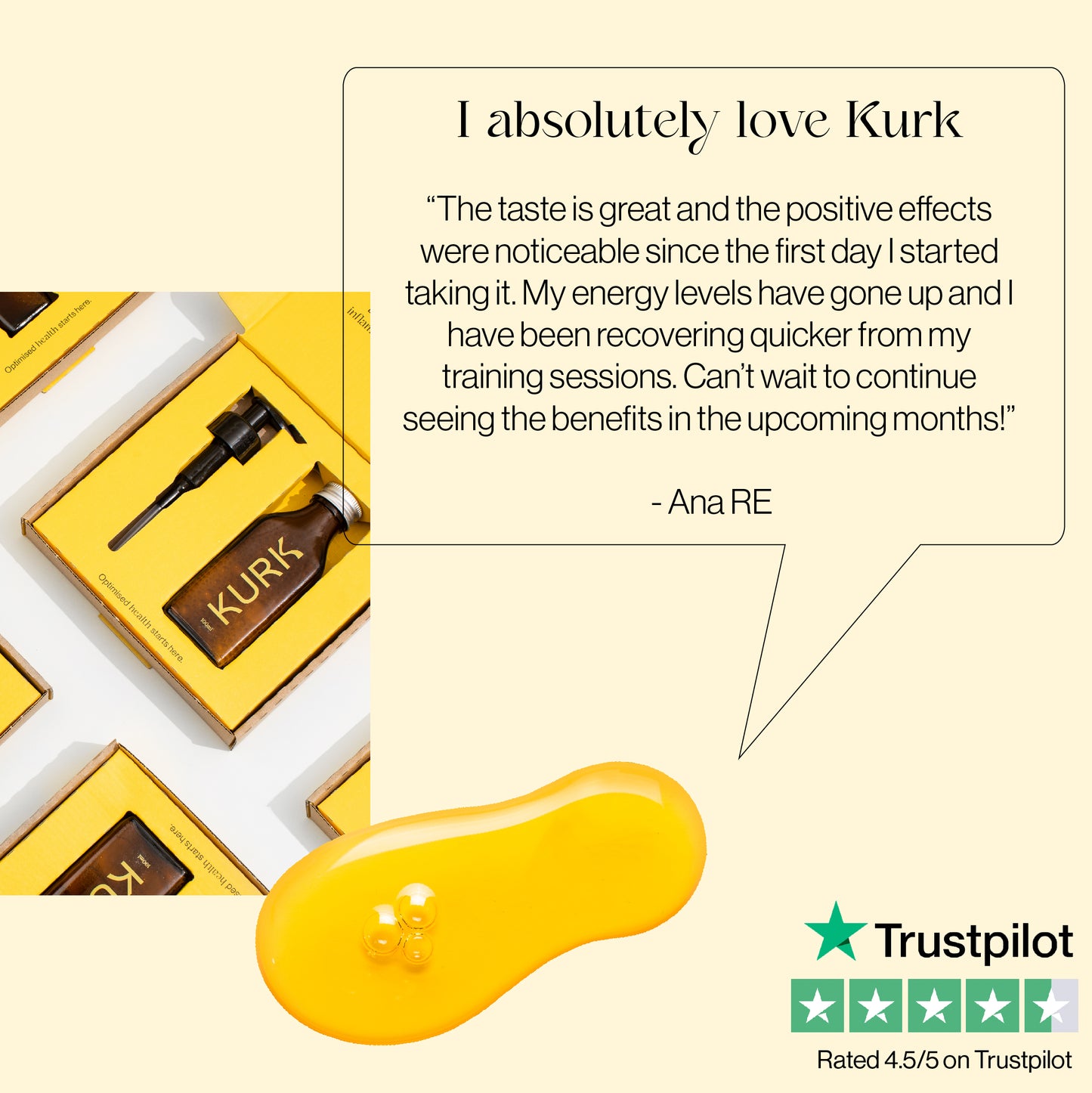 Benefits
Ingredients
Guarantee
More movement with fewer aches & pains
Supports joints and muscles, reducing swelling and stiffness—increasing everyday mobility.
Sharper focus and improved memory
Improves brain function, including concentration, clarity, learning and recall.
More energy and better sleep
Fine-tunes your metabolism, increasing energy levels—resulting in a deeper sleep at night.
Less stress and brighter mood
Keeps anxiety in check, bringing balance to your emotions for a more positive outlook.
Long-term life-enhancement
An investment in all-round health, now and in the future. Boosting immunity and bolstering health.
Curcumin is the active compound extracted from turmeric which acts against many areas of inflammation - the root cause of multiple health issues.
Cinnamon is a spice derived from the tree bark of evergreen trees. It has impressed the world with its flavour, but it more impressively contains important antioxidant, antibacterial, and anti-inflammatory properties.
Lecithin can be found in many foods, including soybeans and sunflowers. It is a mixture of fats that are essential to the cells in the human body. Kurk combines curcumin with lecithin - which has been proven to optimise absorption.
Tea saponins have been consumed for centuries—especially in Asia. Present in green tea leaves—saponins contribute to lowering cholesterol and blood glucose response.
Vitamin B12 is involved in metabolism and helps you to unlock the energy you consume.
60-day money-back guarantee
If Kurk doesn't help you, simply email us within 60 days and we will issue a full refund.
We provide free shipping within the UK—so that's one less thing to worry about.
Where life is unpredictable, pausing or cancelling your subscription is easy.
Our recyclable packaging fits directly through your letterbox.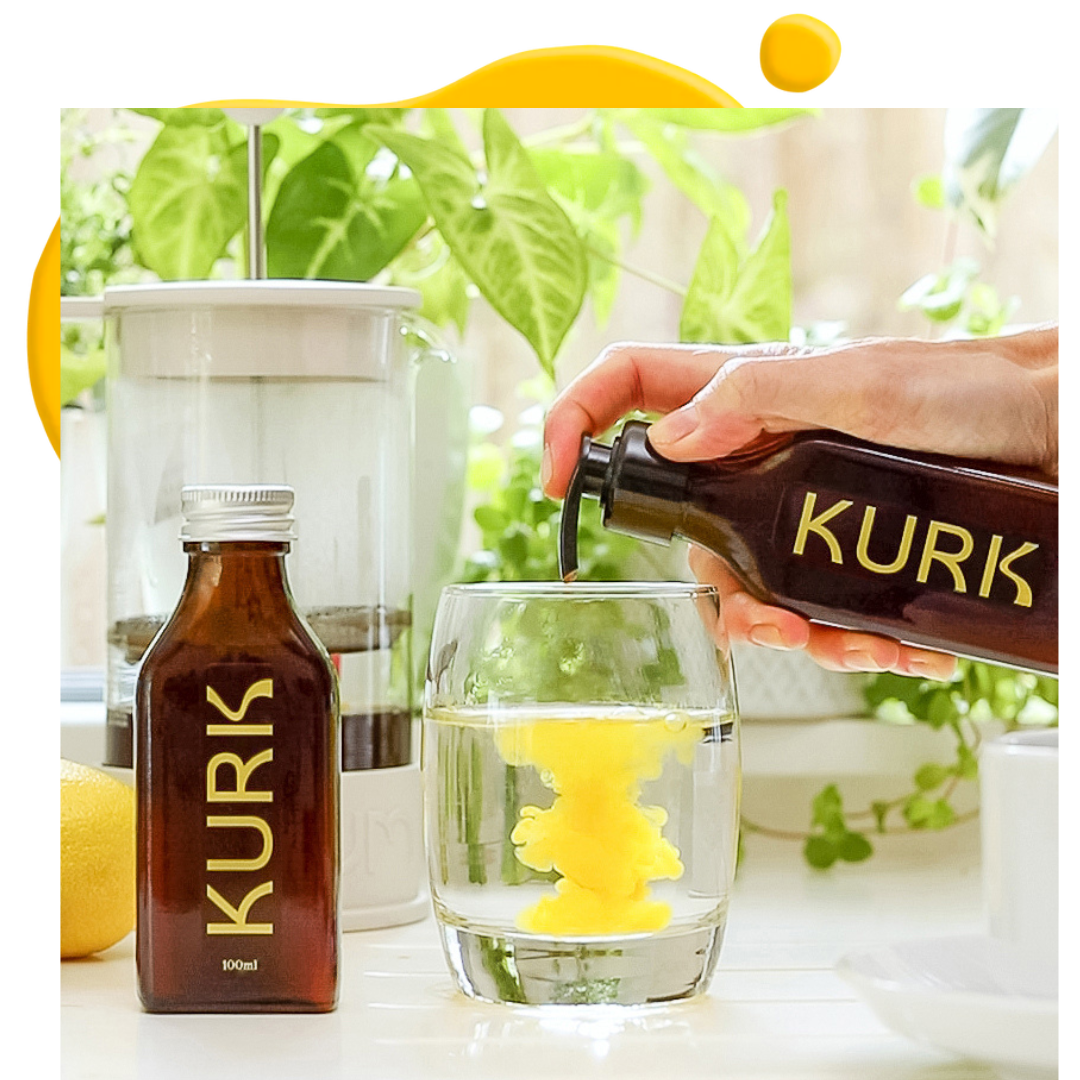 More powerful
than powders
While standard curcumin supplements often come in hard-to-absorb powder form—our experts have harnessed cutting-edge technology to distil curcumin into a powerful liquid elixir. 
By breaking it down into micro-particles, we've created a specially-formulated, highly-soluble supplement that surpasses regular turmeric's potency by 1000x.
Enjoy its premium taste and reap extraordinary benefits with the gold standard of supplements!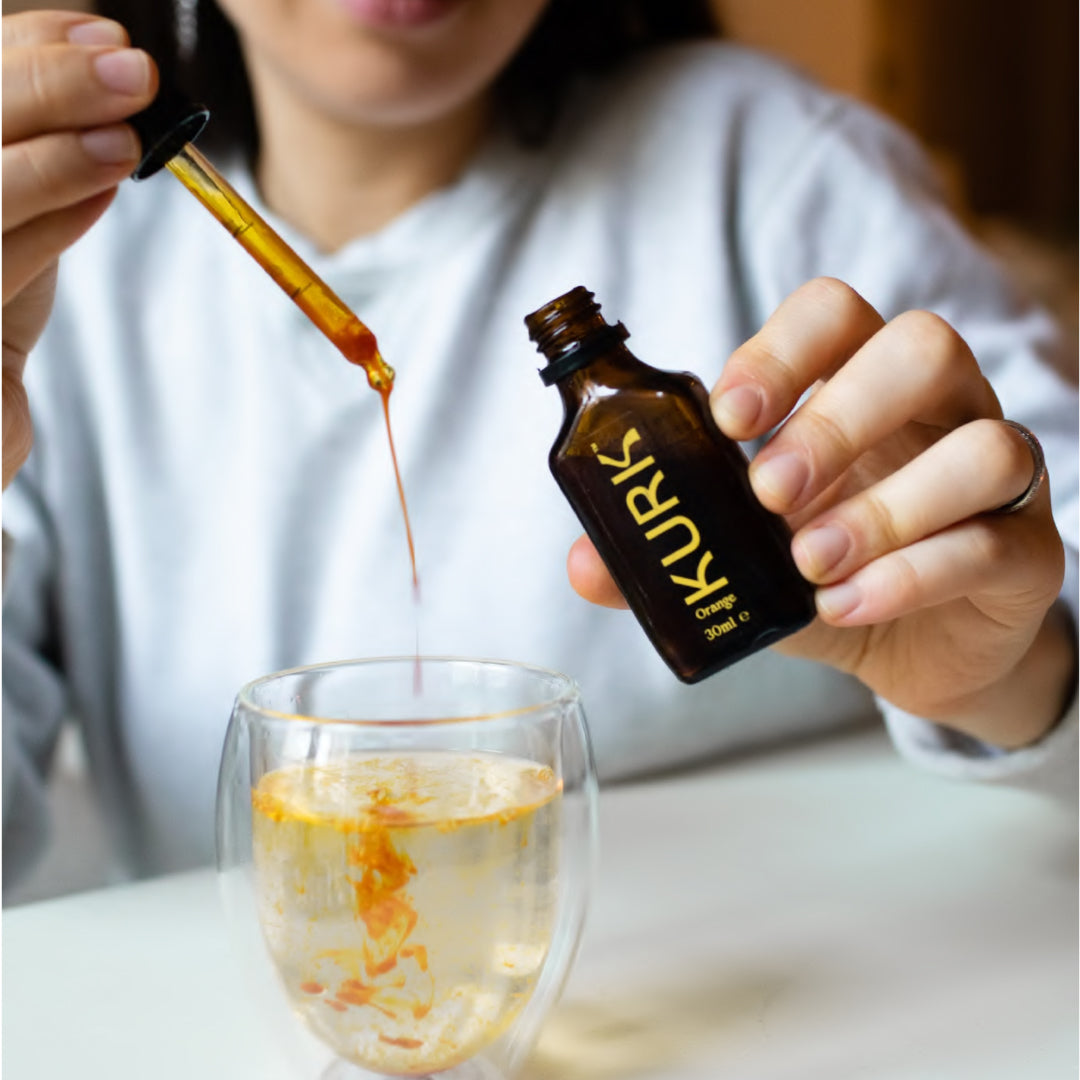 Unlocks nature's power to promote better health
Kurk unlocks nature's power to optimize your health. Its benefits are cumulative, promoting sharper brain function, stronger immunity, improved mood, and effective pain relief. Kurk start working from Day 1, and after 8 weeks, 80% of people feel healthier and happier, more alert, less stressed, and less stiff.
Frequently asked questions answered
Why don't you use Black Pepper?

In traditional turmeric supplements, black pepper is added to improve the bioavailability of crystallised curcumin. Black pepper contains piperine, which slows down curcumin breakdown, allowing more of it to be absorbed by the body. However, this approach can have drawbacks, as piperine may interfere with other substances and medications.

On the other hand, micellar curcumin does not require black pepper for absorption enhancement. In micellar form, curcumin is enclosed in a water-soluble coating (micelle), greatly improving its absorption rate. Micellar curcumin can directly enter cells without relying on piperine or other metabolic enhancers. This makes it a more efficient delivery system, reducing the risk of adverse interactions with other substances and medications.
Will it interfere with my other medication?

We are closely regulated as a food supplement, so can't give medical advice. Dr Harry suggests you talk with your GP or Pharmacist -especially is you take any drug for blood clotting.
What if I don't like the taste?

We now have three delicious flavours, if you don't like your choice you can return it to us and we'll send you a new flavour to try. Remember we also have our 60-day money back guarantee so if you're not happy, for whatever reason you can return for a full refund.
How long before I notice a difference?

Kurk works from Day 1, but its real benefits are cumulative. Taken daily, Kurk promotes sharper brain function, stronger immunity, improved mood, and effective pain relief. 80% of people feel healthier and happier—more alert, less stressed, less stiff— in just 4 weeks.
What makes Kurk different?

Kurk is optimised for absorption due to its unique formula and expert distillation. Basic curcumin supplements that come as powder or in pill form aren't as readily absorbed by the body. Thanks to our experts, Kurk is the most potent and easy-to-absorb curcumin supplement on the market.
How does your money-back guarantee work?

We are so confident in the benefits of Kurk that if it doesn't work for you - we don't want you to pay for it. Just let us know within 60 days and we will send you a refund.
Why should I choose a subscription plan?

When Kurk is taken consistently and over time you can expect to experience more compound benefits. For this reason we recommend a subscription. By subscribing you'll not only save money but we will also guarantee your supply. 
What is the full ingredient list?

We only use natural plants from organic farmers. Kurk contains: Filtered Water, MyCurc+™ (Filtered Water, Natural Flavouring: Cinnamon extract; Tea Saponin, Soy Lecithin, Curcumin from Turmeric), Natural Flavourings, Soy Lecithin, Vitamin B12
How does the subscription work?

It's simple.

1. Your order will be sent out to you (dependent upon the frequency you opted in for)

2. You can cancel or pause your subscription anytime with two clicks

3. You can delay and change your subscription anytime

4. You can upgrade your subscription and save money.
Choosing a selection results in a full page refresh.