Kurk: A Natural Ally for Breast Cancer Recovery
Breast Cancer Awareness Month in the UK serves as a poignant reminder of the need for support, information, and solutions for those battling this disease.
While medical treatments are essential, embracing natural remedies that can complement recovery is gaining momentum. Among these, Curcumin has emerged as a potent and well-researched option.
In this blog, we'll explore five compelling reasons why people should consider incorporating Curcumin into their journey to recovery.
1. Anti-Inflammatory Properties:
Curcumin is renowned for its potent anti-inflammatory properties. Inflammation plays a significant role in cancer development and progression. Studies have shown that Curcumin can help reduce inflammation and potentially inhibit the growth of cancer cells, making it an invaluable addition to a breast cancer recovery regimen.(1)
2. Antioxidant Defense:
Breast cancer treatment often involves radiation and chemotherapy, which can lead to increased oxidative stress in the body. Curcumin is a powerful antioxidant that can help neutralise harmful free radicals, thus aiding the body's natural defence mechanisms and minimising potential damage.(2)
3. Immune System Support:
A robust immune system is crucial during the recovery process. Curcumin has been found to modulate the immune system, potentially helping the body's defences to identify and target cancer cells more effectively. It can enhance the immune response, aiding the body's ability to fight cancer and recover.(3)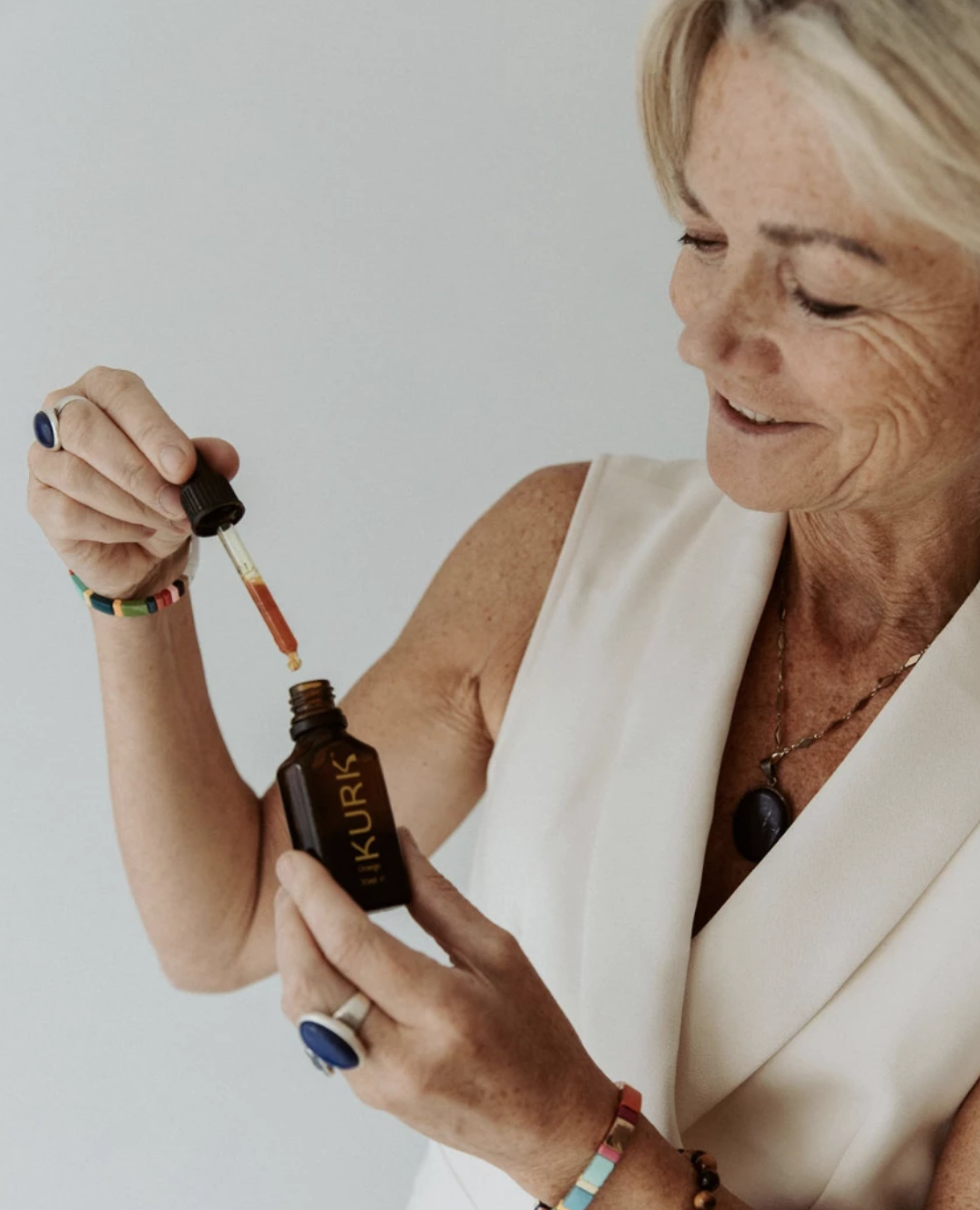 4. Pain Management:
Managing pain and discomfort during breast cancer recovery is essential for a higher quality of life. Curcumin is known for its analgesic properties.
It may help alleviate pain and improve the overall well-being of patients undergoing treatment and recovery.(4)
5. Quality of Life Enhancement:
Breast cancer recovery is not just about survival but also about enhancing the quality of life.
Curcumin's potential to alleviate symptoms, boost mood, and reduce fatigue can contribute to a sense of well-being during and after treatment.(5)
"After a breast cancer diagnosis a couple of years ago Curcumin was one of the highly recommended supplements as part of my recovery protocol. After much research I found Kurk. I love that it has no fillers or synthetic ingredients and that it's backed by a medical doctor. You know it is more potent than others when you start taking it, you can literally feel the difference"
Allie Hill - Yoga teacher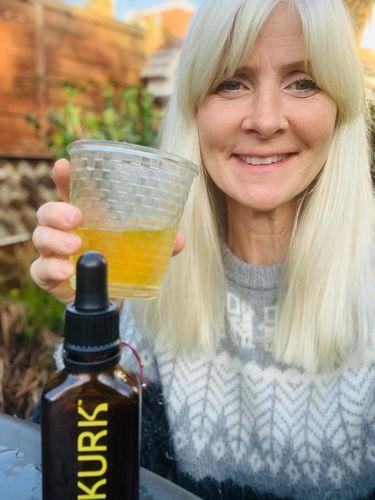 While it's essential to consult with healthcare professionals and follow prescribed medical treatments, integrating Kurk into a breast cancer recovery plan may offer a natural, complementary approach to enhance overall well-being.
Its anti-inflammatory, antioxidant, immune-boosting, pain-relieving, and mood-enhancing properties make it a valuable resource for people during and after their breast cancer journey. It's a small but significant step toward achieving a healthier and happier life post-recovery.
According to Breast Cancer UK, at least 30% of Breast Cancer cases are preventable. Studies have shown that by making changes to your lifestyle, you can reduce your chances of getting breast cancer significantly. There are some great resources : (https://www.breastcanceruk.org.uk/).
If you are worried about breast cancer, for yourself or a loved one, please speak to your GP.
References:
(1)- Shishodia, S., & Aggarwal, B. B. (2006). Role of curcumin in cancer therapy. Current problems in cancer, 30(4), 243-305.
(2)- Saad, R. A., & Hussein, A. H. (2017). Oxidative Stress and Antioxidant Role of Curcumin in Breast Cancer. Breast Cancer: Current Research, 2(2), 112.
(3)- Jagetia, G. C., & Aggarwal, B. B. (2007). "Spicing up" of the immune system by curcumin. Journal of Clinical Immunology, 27(1), 19-35.
(4)- Daily, J. W., Yang, M., & Park, S. (2016). Efficacy of Turmeric Extracts and Curcumin for Alleviating the Symptoms of Joint Arthritis: A Systematic Review and Meta-Analysis of Randomized Clinical Trials. Journal of Medicinal Food, 19(8), 717-729
(5)- Sanmukhani, J., Anovadiya, A., & Tripathi, C. B. (2013). Evaluation of antidepressant and anxiolytic activity of curcumin, a polyphenol compound in turmeric. Journal of Affective Disorders, 150(3), 715-724.